Are you sticking with your plan, following your exercise program, eating well and still not seeing the results you want?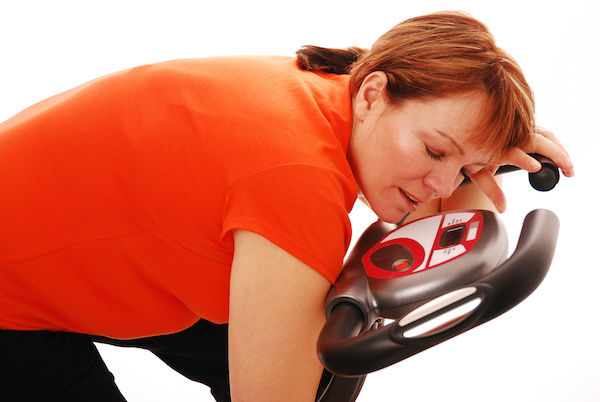 Don't get frustrated or discouraged.  You likely just need to work out differently than others.  Your body is special and just needs a little extra TLC.
In the fitness world, when traditional plans don't produce progress, we call the body, a "non-responder."  Some people are responders, they drop weight and increase muscle, it's almost like you can see their body changing in front of your eyes.  You don't have to envy those people, you too can be a responder!
Being a non-responder can be detrimental to adhering to your plan.  Instead of giving up on exercise, increase the intensity. Studies show that people who don't respond well to traditional workouts show progress with increased intensity.
Since optimal overall health requires good cardiovascular health as well as strength and endurance of the muscles, we've included some tips for how to kick it up a notch…and move the belt a tighter a few notches too.
Cardiovascular Exercise
Monitor your heart rate and focus on your target zone based on your goals.  You'll need to know your target heart rate zone for the way you're exercising.  See the table below to understand your target heart rate zone.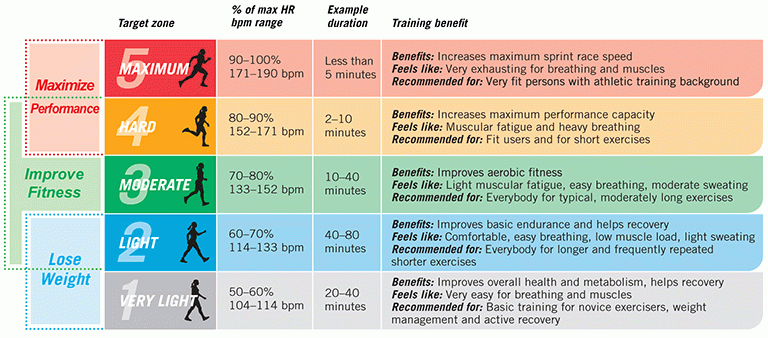 The optimal fat burning range is at a moderate intensity, or around 70% of your maximum heart rate.   You can gauge at what intensity you are at by checking your pulse and comparing it to the chart above.  GET IN THE ZONE!
You can also change the way you workout by paying attention to the duration.  There are two main types of workouts targeted to increase cardiovascular endurance.  The main difference is duration, but you should choose the workout style based on your goals and responses.
With traditional cardio workouts, you work at a lower intensity for a longer duration to obtain the overall benefits.  This workout usually takes between 40 to 80 minutes and stays consistent at a moderate intensity.  Let me put that in real life terms, that's 2-4 episodes of a show on Netflix.
You could also opt for High Intensity Interval Training (HIIT) for cardio.  HIIT involves alternating from exercising at lower intensity and then increasing the intensity in short burst to about 90% of your maximum heart rate.  The intensity you start and the duration of the intervals is usually based on current current fitness level.  The duration of the intervals may be increased over time to ensure you are challenging your body.  You shouldn't alternate intensities for more than 15 – 20 minutes.
Cardio in half the time sounds great, but it may not be best for you. That extra episode on Netflix won't help you reach your goals, unless your goal is to watch an extra episode.   Quicker isn't always better, and sometimes shorter is better than farther.  According to research*, even though we theoretically burn more fat during moderate intensity workouts, non-responders see more results when they get out of steady state cardio and work to increase both intensity and duration of their workouts.
Our ForeverStrong weight loss clients are encouraged to add supplementary cardiovascular sessions to their program to increase circulation, recovery and metabolism.  Making sure to move everyday is extremely important.  Not moving your body enough can cause increased risk for many diseases, including Type II Diabetes. If you are not currently exercising on non-workout days, add frequency before intensity.
Follow these tips to increase the intensity of your ForeverStrong workout program:
Make it a habit to walk 30 minutes per day.
Work up to walking 1 hour per day.
Add Intensity.

Intensity should only be increased after consistently walking 1 hour per day 5 days per week.  Use the suggestions above to increase intensity.
Most importantly, track your progress. Log your workouts into a fitness tracker so we have a reliable record of your activity. We cannot adjust a plan, or evaluate how well it's working if we don't have an accurate record.
Now that you know how to increase the intensity of your supplemental workouts, let's talk about how to increase the intensity of your strength training workouts.  Time to lift some heavy weight or some light weight many times, depending on your goals.
Strength Training
You can increase the intensity of your strength training workouts in several ways.  They all have one thing in common, they will make you work harder.  Challenging your body is one of the best ways to reach your fitness goals.
Reduce rest time between sets.  If you normally rest 30 seconds between sets, try 20 seconds Not recommended for the social butterfly, this option will drastically reduce the amount of texts you can reply to while in the gym.
Change the way you work out.  You don't have to always keep the same boring pace.  You can lift heavier weight, slower and for less repetitions.  Alternatively, you can lift lighter weights, faster, and for more repetitions that normal.  While both of these workout styles are effective, the best style is the one that makes you feel the best.  When you feel good about how you feel and you are seeing results, you've found the best way to work out for your body.
Avoid the machines.  Use compound movements and complex routines.  Compound movements will work more than one muscle group.  Complex routines will string together sets of exercise without rest.  It took me a while to understand the main benefit of not using the machines.  It's less cleaning.  Just handles and a surface.  You don't have rollers, and handles and other handles and protectors for the handle's handle that the machines have.
Start your workout with your heaviest lower body moves.  This means take care of the bigger heavier weight exercises when you're fresh and not fatigued.  Squats before fries, flies.
Our ForeverStrong workouts already focus on intensity so increasing the intensity of our workouts can be a bit different. If you notice your heart rate not in the appropriate zone during your workout, here are some tips to to increase the intensity during your ForeverStrong workout:
Switch to Active Recovery.  In between sets, don't sit on the bench.  I know, you're never going to be able to choose a new song again!  Recover in a way that progresses your workout.  You can do some dynamic stretches or work on your form for the next exercise in your set with little to no weight.  Some recommendations from professionals vary about active recovery, Steve Maxwell recommends shivering, shaking & light calisthenics.  Alternatively, Pavel Tsatsouline recommends fast & loose drills.
Modify the plan.  If necessary,  decrease weight or repetitions.  You may need to decrease both when fatigue sets in.
Time under tension is the amount of time your muscle is experiencing tension  Time under tension (TUT) is more important than the speed at which your perform your repetitions.  Less repetitions with more time under tension will create a greater response than increased
repetitions with little to no tension. You benefit more from five 10 second repetitions than you do from 30 one second repetitions.
Monitor your breathing during your strength training.  You should have an elevated heart rate, and experience some breathing changes, but not be sucking wind like a Hoover vacuum during your workout.
Those are some specific tips for how to increase your intensity and change the way your body responds to exercise.  There is one very important tip.  This applies to every exercise and every time you increase intensity.  This isn't a tip. This is not like the tip at all.  The tip is optional, you decide whether or not you want to do it.  This.  This is a rule.
Never compromise form for intensity.
You should only increase intensity to a level at which you can maintain proper form for the entire duration of the set.  If you see that you've increased the intensity but your form is suffering, dial back the change you made to your workout.  There isn't anything worse than performing 100 completely ineffective squats, well maybe 300 ineffective squats.
Following these tips and sticking with them can your body into a responder.  Commit to focusing on intensity and form.  You can change your body.  Change the way you work out, dedicate yourself to making the change, and watch your body respond to your efforts. With, or without a personal trainer.
We've helped hundreds of people in Howard County and the surrounding areas including Highland, Clarksville, Columbia, Burtonsville, Olney, Ashton and Silver Spring get there bodies responding to exercise. We'd love to help you too. Call us at 301-452-5547 to see for yourself. Mention this article for a free session!