Getting Started with Kettlebells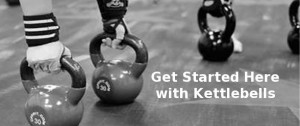 Kettlebell lifting is a skill and an art. If you are just starting out with kettlebells, we take special measures to ensure your safety and success. Our students boast amazing success because of our exceptionally thorough introduction to kettlebell training.
New to Kettlebell training? New students learn the basics of working with kettlebells safely before embarking on their training program.
New students will be instructed on how to safely perform 3 fundamental kettlebell skills using Russian-style training methods. The course begins with an introduction to power breathing and high-tension techniques.
At the end of each Starter Session, practice exercises are assigned as "homework" to aid the student in developing muscle memory of the new movement patterns.
Once you complete the Starter Sessions, you can start working out with your trainer 2-3 times a week.
Next Step, Forever Strong
If you are looking for more than just group fitness, continue your skill development with our Forever Strong Program. This program combines Private and Semi-Private Sessions to help you develop your strength and skill using kettlebells. This is our results guaranteed Total Fitness and Progressive Strength Training System.