5.22.2011
FOR IMMEDIATE RELEASE
Kelly Scott, owner of ForeverStrong, has earned the Russian Kettlebell Challenge (RKC) instructor certification from Russian Master of Sports Pavel Tsatsouline in Vienna, Virginia.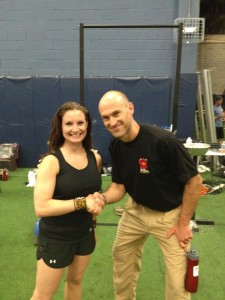 The RKC certificate represents a "Black Belt" in kettlebell instruction that requires extensive preparation to attain. The 3-day RKC certification workshop, designed to be one of the most mentally and physically demanding experiences of a lifetime, is the only program which insists on stringent testing of multiple skills and strengths. Currently, only about 70% of RKC candidates succeed at achieving certification.
Kelly is now one of the few female RKC kettlebell trainers with this prestigious achievement practicing in Maryland. Now with the RKC certification, she is even more qualified to help her clients safely master kettlebell techniques to achieve their weight loss and strength conditioning goals.
Dating back to the 18th Century, Russians used kettlebell workouts to prepare for the Olympics and special forces. Tsatsouline brought a kettlebell training regime to the US over a decade ago to help actors and athletes achieve fitness. Since then, everyone from hard core athletes to exercise novices are discovering the benefits of kettlebell training as an incredibly efficient method to burn fat and build strength.
ForeverStrong now has two RKC trainers at their Fulton studio.  In addition to Kelly, their Program Director, Brian Stevens, has been an RKC instructor since 2010. Combined, they teach private lessons and group sessions.  Brian is currently training toward the 2014 Beast Tamer Challenge.  Kelly is making plans to pursue her Level II RKC certification.
In celebration of her achievement ForeverStrong is offering one free kettlebell lesson to new students every Wednesday at 12:00 PM until June 15th 2012. Registration in advance is required. To register, contact Kelly Scott at 301-200-2223.